VANCOUVER ISLAND, B.C., CANADA—Members of a local Vancouver Island riding group were angered last week when a 26-year-old man showed up for after-work shuttle runs with a Kuat two-bike rack on his new Tacoma.
Friends accused Josh Dabber of "being a little bitch about his new truck" after he refused to install a tailgate pad and shuttle the bikes in the truck bed.
"Josh is one of my best friends, but he turned his back on us when he showed up to the shuttle party with that rack on his truck," said Eric Klaptout. "He's acting like he's the only one with a Tacoma, but I've never even heard of any other truck."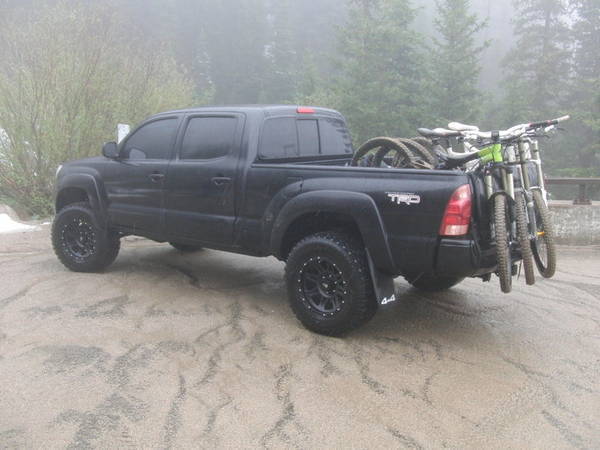 Other members of the B.C. crew, dubbed the Flannel Panel, because they only own flannel shirts, chided Dabber's refusal to place the bikes in the bed, saying scratches and dents are points of pride on a $53,000 dollar truck.
"Josh ruined a perfect day,," said Preston Mayass, Flannel Panel member. "We're down to only two Tacomas right now after Sage went vegan and carbon-neutral with his girlfriend."
Klaptout said Dabber's actions violate Steeze Code, and that they can't go unpunished.

"If Josh doesn't throw a tailgate pad, blanket or old towel on the back of that truck by next week, we're going to replace his Kona Operator with 29-inch enduro bike and start withholding post-ride PBRs from him," said Klaptout.
Dabber said he's contemplated adding an additional two trays to the truck so he can still get shitfaced with the boys after rides, but it's already tough to make a $759 dollar-a-month payment on a part-time bike shop mechanic's salary.