Applewhite Bikes has announced the release of its newest model, the Sever, which will hit bike shops and be available online just prior to the arrival of the Comet Leonard this winter. Pre-orders are being taken now.
The bike's design includes an industry-first replacement of standard wheels and tires with gigantic saw blades, designed to rip off the rider's testicles while making castration fun again.
"Cutting your testicles off has gotten a bad rap, and we were really looking for a way to bring a little excitement back to the practice." said Applewhite Bikes Spokeseunuch Cass Trader. "We couldn't think of a better combination than saw blades and mountain bikes."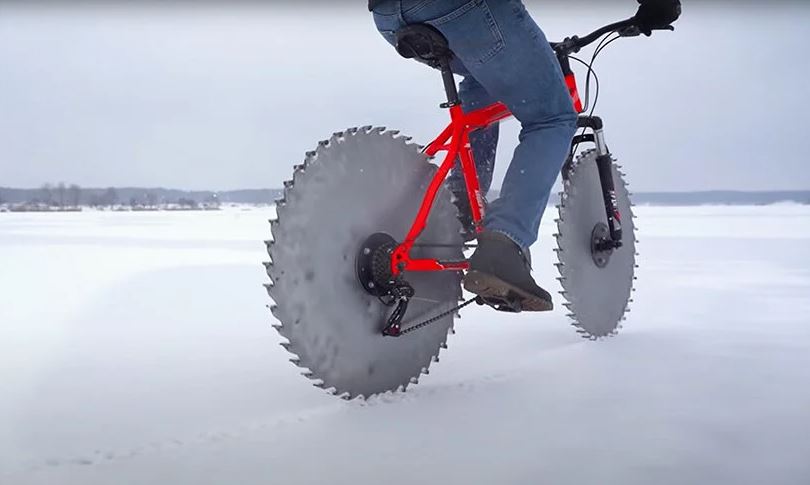 According to a Trader, the Sever will include adjustable geometry chips, allowing riders to reset the bike in female mode after the saw blades tear their balls off and they transition to a woman. As a bonus, Applewhite Bikes is offering free first aid kits to the first 50 buyers. Other features include a blade sharpening kit and replacement saw blades should the factory blades not fully rip off the testicles, along with blood guards.
Trader said another great thing about the Sever is that it prevents riders from embarrassingly dragging their balls into the seat post after misjudging drops and jumps.
"You simply don't have to worry about your rear tire sucking your balls into your seat post after overshooting feature because you no longer have balls," said Trader. "The Sever eliminates this often-occurring and painful part of mountain biking."
The Sever is will be available as a hardtail only, retailing for $690 dollars. More info at rideyourballsoff.com.